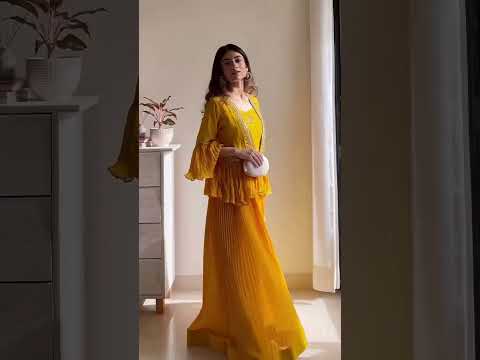 Designer Yellow Party Wear Gown With Shrug
Note : ships in 1 days
Looking for this same colour beautiful Designer gown On Havy Gorgette fabric with crush work and handwork real Khatli Work.
You can wear this beautiful Yellow Colour Gown Partywear Salwar Suit at functions, festivals, weddings, and special occasions. Wear this Gown with light jewelry to complete your look.
Product ID - YOYO-146-17522-YELLOW

Product Name - Designer Yellow Party Wear Gown With Shrug
Stitching Type -Fully stitched
Package Details - Gown, Shrug
GownDetails :
GownFabric - : Faux Georgette
Gown Color -Yellow
Gown Length :- 55-56 inches
Gown Size :-L-XL-XXL
Gown Work : Handwork Khatli Work
Gown Flair : 5 Meter
Shrug
Shrug Fabric :- Faux Georgette:'
Gown Color -Yellow
Shrug Work ;- Handwork Khatli Work
Inner Details:-
Gown Inner : Micro cotton.
Work :- Handwork Khatli Work
Newsletter
Subscribe to receive updates, access to exclusive deals and more.
Follow Us